Classifieds - For Sale/Trade
Polygraph instruments manufactured in the U.S. are subject to export control laws and regulations of the United States. Individuals must comply with such Export Laws and obtain any license, permit or authorization required to transfer, sell, export, re-export or import the Products. Individuals cannot export or re-export the Products to any country or entity to which such export or re-export is prohibited, including any country or entity under sanction or embargoes administered by the U.S. Department of Commerce, U.S. Department of State, and U.S. Department of Treasury. Contact the manufacturer if you need assistance transferring ownership of polygraph instrumentation.
---
WANTED
Unique Analog Polygraph Instruments
Donations
The Polygraph Museum survives on donations from polygraph examiners and other interested parties.
If you have an old instrument that is gathering dust in your garage and would like to find a good home for it rather than use it as a boat anchor, please consider donating it to The Polygraph Museum. Pack it well with lots of packing popcorn or suitable packing material, and mail it to Bendiksen & Ball Polygraph. The Polygraph Museum will
reimburse you for your packing and shipping costs. We will accept any instrument, in any condition.
We are particularly interested in
Keeler
Lafayette
Stoelting
We have also been looking for an example of a Reid Instrument for years. And we would like early models of the Arther Polygraphs.
In some situations, the Polygraph Museum will consider paying you for your instrument. If you are interested in selling an instrument to us contact Chris Bendiksen by phone or e-mail and discuss your instrument with him. If it is unique, in good condition, and is an instrument that we already don't have in our collection, we will make you an offer.
Thank you
Chris
425-775-9015
---
Hello, I am the former owner of Southwest Polygraph Services, Inc. in Arizona. I retired and sold all of my instruments thinking I would completely retire but now I find myself bored to tears so I am looking to administer some examinations and would like to purchase a Lafayette computerized instrument. Since this is going to be a part time gig, I would prefer to buy a used LX6 with all components and sensors etc. or a 4000 with the same components and sensors.
My contact info is:
V. Kay Docter
Phone number 520-419-9292 and email is docterpolygraph@gmail.com
-------------------------------------------------------------------------------------------------------------------------------------------------------------------------------------------------
Used Only Once Pristine Condition Stoelting CPS Pro/ Computerized Polygraph
Items included: Waterproof Case
CPSPro Cardio Cuff
CPSPro EDA Fingerplates
CPSPro Thoracic Mechanical Pneumographs
Seat Motion Sensor
Unused CPSPro Plethysmograph
Unused Skin Conductance Snap Lead
Unused Skin Conductance Velcro Cup Reusable Electrode
Unopened Disposable Medical Electrodes
Unopened Skin Conductance Electrode Paste
USB Drive with CPSPro Fusion Software Installation Files
Reason for selling: I am a police polygrapher in GA who decided not to start a business.
$3,000 or OBO.
Contact: David Zigan @f.d.zigan@gmail.com
---
For Sale
Computerized Axciton Five channel polygraph instrument.
This instrument was new in 2005 and I'm the only owner and user.
Included are the following:
Five channel sensor box
Upper and Lower Pneumographs with extension chains
Cardio assembly with (4) Cardio Cuffs and extra tubing.
GSR assembly
(1) Seat Sensor cushion
One Gateway laptop with a super large screen that makes it possible
To initially score charts as they play through. This laptop is old but it
Works great.
One Epson WF-100 printer, color or black and white. This allowed me to
print off charts and to writer polygraph reports and turn them in when I
was working in the field.
And One Motion Pad, also has extra tubing.
Price is $1,850 or best offer.
Please contact George E. Brown, LMSW at 814-203-0490 or email
---
For Sale: Stoelting CPS Pro in a Nanuk hard case. I purchased two years ago - retiring. In great condition.
$4000.00
Rick Dolleslager
319-269-9425
rickdolleslager@gmail.com
---
NOTE: Due to increased costs of shipping, the manufacturers have to raise the price.
The new price is $650
---
Like new Limestone Instrument includes:


One DataPac Control Module
Serial number L05503
Inputs include Resp1, Resp2, BP, P Guage, Temperature, and EDA
Two USB cables


Butt Motion Sensor
EDA
One set Gold finger attachments
One set replacement Gold finger plates
One set Silver finger attachments
One set Sticky Pad EDA attachment
One set Clip on EDA attachment
Sphygmomanometer
One black arm cuff with clear tubing
OneLimestone replacement black arm cuff
One Riester Sphygmomanometer
One Omron Sphygmomanometer
Pneumographic
One pair of black pneumo tube with clear tubing
One pair of black pneumo tube with clear tubing
One pair of black pneumo with solid black tubing with chains
Ple
One Nonin clip on PLE attachment
Plus individual cases for all the components
$2000 or best offer
Contact Chris if interested.
425-775-9015
chris@lie2me.net
---
I've been out of polygraph testing for a number of years. However, in cleaning out my polygraph materials, I found an almost new (mint condition) copy of Polygraph Testing of the Pedophile by Stan Abrams, PhD. It's been 28 years since I bought the book and never used it and never even read it. I might have needed it when I was in the FBI, but in 1993, I was in private practice and just didn't have a need.

Any possibility of running an ad in the magazine to see if anyone is interested in the book. At one time, they were on ebay or amazon for $400 – $450. Currently Amazon has it priced at about $150, and that's for a used copy. Mine is brand new. I would be glad to sell it to another examiner for $100. Let me know.

Keep up the good work with the publications. Even though I've been out of polygraph for many years, I still enjoy browsing the publications and keeping up with what's happening with APA.

Regards and stay safe,
Jim

Jim Sniegocki
Capital Intelligence, LLC
9462 Brownsboro Rd., #136
Louisville, KY 40241
502-426-8100 (502-314-0175 cell)
www.capitalintelligencecorp.com
---
Up for sale, a (3-years new) stationary polygraph chair which features opening arm pads to conceal arm movement sensors. Also, seat opening to conceal seat sensor. $500.

This item is for pick up in New Braunfels, TX. Contact Sally VanBeek at 425-367-1210 or, s_vanbeek@msn.com. Thank you!
---
Jim Morris 1/20/2022
Knoxville, TN
Trained at Backster's 1984.
I have retired and want to sell my Lafayette LX 4000.
LX 4000 polygraph instrument with all attachments and a few extra parts. It is several years old but the is absolutely nothing wrong with it. The picture was taken yesterday while the computer was on and the polygraph program was running.
The laptop is a Dell Inspiron 1525. Has 15' screen. Windows 10. Total memory is 220gb, 154gb free. Dell Express Card Remote Control. Has LX software disk, MS Word Disk, Backup disk, Logitech Camera disk and the Dell Owner's manual. The only thing that this computer was ever used for was conducting polygraph examinations. The LX polygraph program and APL's Polyscore Algorithm program is already loaded along with Microsoft Word.
Extras – One extra Pneumo Chest assembly. One extra GSR cable. 3 Chain extensions. Web Camera. 2 packets of O-rings. 3 placard cards to hang on doors advising Exam in progress.
Asking $3,500. Or Best offer. + shipping. Any questions call 865-546-0560. Email jimtn@comcast.net
---
FOR SALE
Thriving Polygraph Company
Established 1987
Turn Key Operation including all equipment
We have two offices on the West Coast of Florida
Great reputation with Law Enforcement, Therapists and Attorneys.
Two examiners continued busy maintaining CDC requirements throughout the pandemic
Contact Owner @ Call (727) 942-2246 or agipvt@gate.net.
---
My name is Dawn and I'm an APA member & polygraph examiner. I am in the process of expanding my business. I was wondering if you would please post on the APA For Sale area on my behalf as I would like to purchase the following:
Used Lafayette LX6000 or an 8 channel Axiton with software.
Polygraph Chair
I would also purchase DI/SR polygraph charts created from an analog. I do not have an analog but I thought it would be neat to frame some old charts and hang them in the office.
Thank you for your time and I look forward to hearing from you.


Very Respectfully,
Investigator D. Nash,
Polygraph Examiner & EyeDetect
Licensed Private Investigator

Validate, LLC
https://ValidateLLC.com
https://investigatornash.com/
https://deceptiondetectionspecialists.com/
Office: InvestigatorNash@ValidateLLC.com
Direct: InvestigatorNash@Gmail.com
Office: (443) 343-2849
Cell/Text: (808) 256-7661
---
My name is Bieje and I am writing you on behalf of Full Bleed Printing in Brooklyn, NY regarding an Axciton polygraph that we have in our possession from a previous Homeland TV shoot. As far as we know this was purchased specifically for the project by the company Showtime and has not been used since; the machine was left to whomever wanted it and so our staff brought it back to the shop where it has been sitting ever since. We are obviously not members of the APA but we are wondering if there is still any way to list this machine on your website for sale? Attached are pictures.
Thank you in advance for your help,
Bieje Chapman
The Shop
FULL BLEED PRINTING
C:929 397 0532
www.fullbleedprinting.com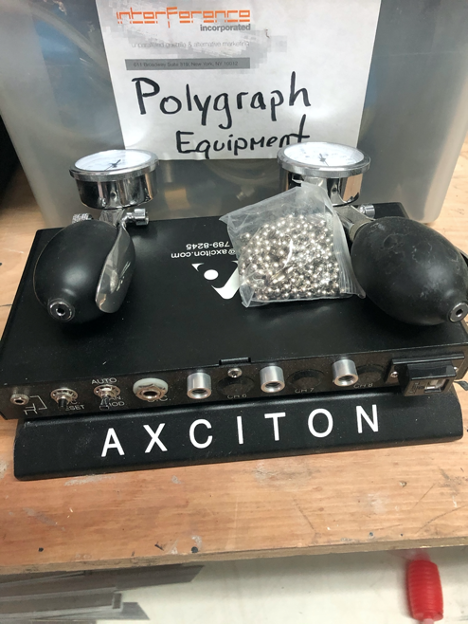 ---
For Sale

I have a 2 year old Stoelting still under 5 year warranty for sale in pristine condition with all attachments, camera, and brand new Husky bags for parts, (tags still on them). It has been used once on a test with my own daughter outside of school.
I am 69, went through Marston Academy, and never moved forward with this occupation due to some personal issues. Now with Covid, I really don't think it is in my interest to do polygraph.
I am asking $4,600 and can fly it to the buyer (I get free flights) if buyer is outside Southern CA.
Cash or cashier's check only please. Please advise.
Thanks for your help,
Diane Hoffman
909-561-5508
hoffmad1@yahoo.com
---
DataPac_USB Silver Package
The DataPac_USB is designed for the professional examiner who already has a suitable computer system but requires data acquisition software and physiological hardware.
Data Pac_USB includes:
Data Pac_ USB™
USB Attachment Cable 6 Feet
2 Respiration Transducers
1 EDA Attachment
1 Blood Pressure Cuff Assembly (Includes Adjustable Blood Pressure Cuff, Cardio Tubing and Sphygmomanometer
1 Countermeasure Sensor Pad (Air)
1 Instrument Carrying Case
Contact Al Gonzalez - OBO - Best Offer
305-804-2689 or email offer to agonza2551@aol.com
Thank You
---
My name is Randy Reynolds I'm the owner of Decker Instruments http://www.polygraphsales.com . If possible I would like to place a Sale / Trade listing to purchase Analog Polygraph chart paper from anyone who may have some they wish to sell. What do I need in order to I place a listing on the APA web site ?
Thanks
Randy
Randall Reynolds Spectrum Dynamics, L.L.C. 353 Circle C. Road Alexandria, Alabama 36250 H: (256) 820-8970 C: (256) 343-6215
---
I am interested in placing this instrument on the classified page ~ I am not a member and am wondering what the procedure would be to get this information on the site?
Kate

"Mint Condition" ~ Please check it out on Ebay...
Computerized Stoelting Polygraph Instrument | eBay
---
Axciton Computer Polygraph
New, Never used
5 channel box
All attachments, including seat cushion for counter-measure
Latest Axciton version
Advanced White Star Scoring program($2,500)
Infrared finger attachment
Cost $9,500 Sell $3,500 Firm
Arthur Herring III
---
Polygraph Equipment for Sale:
| Item | Condition | Asking Price | Purchase Price |
| --- | --- | --- | --- |
| Seat Sensor | Very Good | $300 | $475 |
| Arm Pad Sensors | Very Good | $350 | $495 |
| Foot Pad Sensors | Very Good | $350 | $495 |
| Forearm Cradle W/ Cuff | Very Good | $50 | $215 |
| *Bundle price for seat, foot and arm sensors | | $750 | $1,465 |
| *Bundle price for all items listed above | | $1,000 | $1,680 |
Also, For Sale. (Price Is Negotiable)
Existing Business Website 'verifiedpolygraph.com'
This Website has been up and running for six years as of this month. Amount spent on Google AdWords varies, but has never exceeded a max budget of $175 per month.
The average number of initial visits per month ranges between 1500 and 2000.
January, February and March AdWords budgets were only $50 per month (To keep the website active) with the following results for February.
Total Page Impressions - 11,076
New Website Visits - 1,985
Website Sessions Resulting from New Visits - 5,196
This website can either be automatically forwarded to an existing web address or continued as a stand-alone website which could be easily personalized to a new owner and/or location.
If interested in any of the above listed items, feel free to contact me at verifiedpoly@outlook.com or call
me at 657-549 1249. Please leave a message if I don't answer.
Thank You,
Charles Hubler (Bud)
---
I am interested in trying to sell my late husband's polygraph machine.

I don't know anything about it, whether it works or not, but am assuming it does....? It is a Model #76056B, Serial #147824, Voltage 120, Freq. 60, Watts 30. It was made in Lafayette, Indiana.

Please email me at withchristiwin@hotmail.com with questions or offers. It would ship from Florida.
Thanks so much,
Dawn Lackovic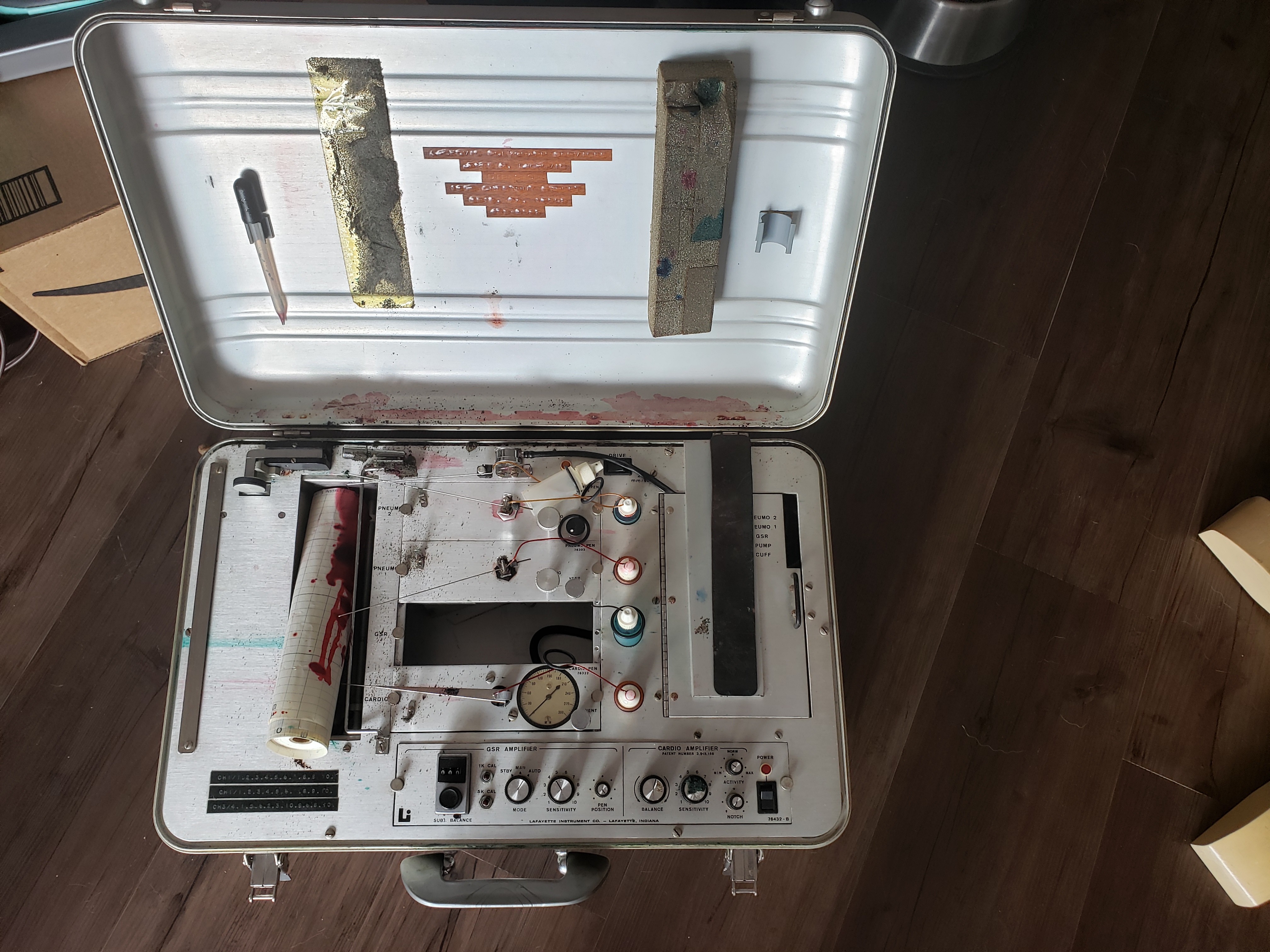 ---
I have a Stoelting CPS Pro instrument includes case, the unit is about 2 years old.
Selling for 3750 UK sale only, will not ship.
Please contact me
Jason Hubble
---
I have a stoelting CPSpro complete instrument includes case PLE and both electronic and mechanical phneumos the unit is about 2 years old. Selling for $4200.00 obo
Accepting Cash,Venmo, PayPal or Visa & MC
Please contact
Mitchell Alvarado

Mitch59polygraph@outlook.com
626.824.6878
---